The Cat's Meow (2001)
Viewed: 10/26/02 by Qubert
One of the wittiest and smartest films I have seen in a long time. The Cat's Meow tells the fictional story of a real-life mystery death that occurred on William Randolph Hearst's yacht in 1924. Sharp narration by Ab-Fab's Joanna Lumley cleverly sets the stage as the film opens ("Welcome to Hollywood, a land just off the edge of Planet Earth. . ."). Each character is introduced as they arrive at a weekend party thrown by Hearst (Edward Herrmann) for the birthday of Thomas Ince (Cary Elwes). 1924, of course, was the age of prohibition, jazz, dancing, and free love -- all of which make their appearance here. But everyone carries his or her own secret, and as the partying intensifies, the thin veneer of control and superficial pleasure begins to unravel until tragedy strikes.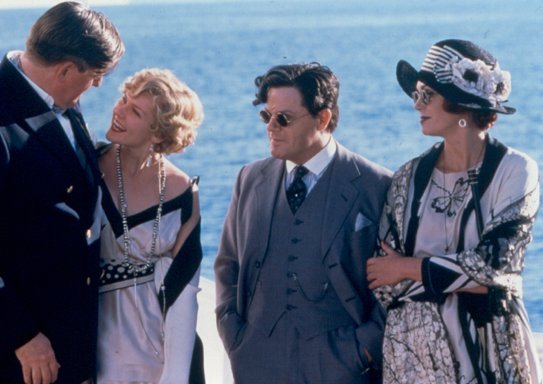 The cast shines, especially Herrmann, whose Hearst controls the universe, falls apart, and then regains control. His love for Marion Davies, played by the exquisite-as-usual Kirsten Dunst, motivates everything he does. Dunst looks every bit of her 19 years, breaking the Hollywood trend of casting older actors as younger parts -- Davies was 27 when these events occurred! But she holds her own among this group of veterans, beautiful and witty, a perfect Jazz-Age goddess. Eddie Izzard stands out as Charlie Chaplin, coming off a rare flop film about which everyone can't stop talking and trying to conduct a clandestine affair with Davies. The genius of the clown is that he's sad underneath, and Izzard represents this maxim perfectly.
I should mention Jennifer Tilly, too, who plays Louella "Lolly" Parsons. I have never liked Tilly. In films as diverse as Liar Liar and Bound, I can never see past that annoying voice of hers. But she's ideal for this role, going from naive newspaper girl to hardened Hollywood player in the span of two days. The masterful scene in which she manipulates Hearst into giving her a contract, thereby allowing Parsons to become the "most powerful and feared gossip columnist in America for thirty years", almost -- but not quite -- redeems her in my eyes. (Still can't get past that voice!)
Watch this film. Glory in the biting dialogue, the sumptuous period clothes and set designs, and the 1920's music. Kirsten Dunst even sings a gorgeous torch song over the closing credits.
Isn't she just the cat's meow?